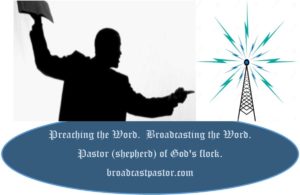 Anybody can watch a live service on Youtube or Facebook live.
But, that church service is a "one way – watch only" type of broadcast.  Feedback is limited to likes and emojis and nothing else.   In spite of this, many churches who are facing a pastoral shortfall and are having difficulty finding a pastor are doing exactly that – their whole church service is watching someone else on Youtube or Facebook live.  They gather in the sanctuary and watch a streamed service and go home.  They still don't have a pastor, but it is better than nothing, they tell me.
Enter Pastor Ed Smith and Joy Christian Radio's new program we call "Broadcast Pastor."
We set up a two-way Internet linkup with your church and put in a large screen TV.   We use that two way connection just for what it sounds like….so we can have interaction between you and us, and we set it up so that several churches can participate simultaneously.  This makes the program cost effective and allows your church to have a real pastor. 
However, there is one major thing is missing from this plan.   The pastor is still unavailable outside of church times because he doesn't live near your church!
That's where Freedom Book helps out.  We've set up a social media group that we call "Broadcast Pastor.   This new group on Freedom Book is a social media connection that we'll never have to worry about "Fact Checkers" or "Facebook jail" or anything like that.   Freedom Book is owned and operated by Christians that we can personally vouch for!  As a result, we'll be able to communicate and ask and answer questions, discuss topics, have Bible Studies at specific times and dates and a whole lot more – and we're available much of the day every day!
In addition, when your church signs up with Broadcast Pastor, we will travel to be with you in person as much as we can with emphasis on those times when you need us the most! During the passing of a loved one or a terrible accident or fire, whenever you need us the most, we can come and be with you.   (You will want to ask how this part of our program works so that we can take maximum advantage of it!).
You do not have to be a member of a participating church to join here in this group,  but, as a member of a participating church, you will have first options to get responses to your questions and / or needs!
Join us today and let's make a dent in this sinful world and together sort out the results of sin and how it affects all of us, and let's work together to insure that your church continues to minister to people in your community during these dark and tough days in which we live.   
Use the contact form below and ask us how to join Broadcast Pastor!